I read a book by a Vietnamese author, Lan Cao called "Monkey Bridge". The powerful emotions it evoked inspired my series of large bridge paintings; 7 feet high by 15 feet long triptychs. My intention was to connect one side of the painting to the other to form a bridge. Of course some of the connections have disappeared as the paintings progressed, but to me they are still bridges. The bridge is a symbol of connection as well as separation. I want the viewer to feel the physicality of the pieces and experience the connection between the somatic and spiritual realm.
Many of the bridges are oil paint, and the newer ones are acrylic. I switched from oil to acrylic in 2000. It is impossible to capture the grandeur of these pieces on a photo. One must stand in front of these pieces to truly appreciate their impact.
---
---
---
Powered by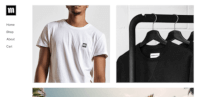 Create your own unique website with customizable templates.